Earlier this year the Maloney's crew went along to BarberCraft, NZ's first barber expo and battles.
Barbers, trade and members of the public from all over NZ (and Australia) went along to share techniques, shoot the breeze and fight it out in the Barber Battles.  Two of our apprentice barbers, Matt Edwards and Cole Weldon, won their categories (Shave and Classic).  We were also lucky to host the talented Matt Brown and his crew from My Fathers Barbers in Christchurch, while they prepped their models with amazing hair art.
Check out this story and pics from AUT journalism student Amelia Petrovich.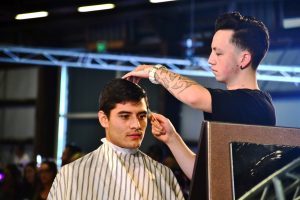 Cole Weldon of Maloney's Barber Shop – picture Amelia Petrovich