What's the worst thing about riding a motorbike?   Insects in your throat ….  soaking wet pants …. aching muscles?  Nah, it's got to be Helmet Hair!  You arrive at your destination, dapper and ready to enjoy a cold beer and some live rock n roll, but your hair's plastered to your head in a bath of sweat and bad partings.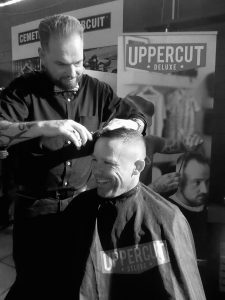 That's what gave Auckland Distinguished Gentleman's Ride (DGR) organisers Mike Andrews, and Julian Maloney of Maloney's Barber Shop, the idea to set up at the ride's after-party to sort out those messy mops.
DGR 2017 saw 92,000 riders in 580 cities take part in this global gathering of vintage and classic motorbikes. Raising funds and awareness for prostate cancer research and male suicide prevention, on behalf of charity partner The Movember Foundation.  September 24th was a beauty in the City of Sails, after 2016's deluge which was more like swimming than riding ……..
~ Thanks to Uppercut Deluxe we managed to rescue plenty of helmet hair – read the full story on the Uppercut Deluxe blog ~