If you've been in the shop lately you'll have seen – and tasted – delicious brews from Deep Creek Brewing Company – our generous beer sponsors!
And in a double whammy of beer fun, barbers Ross and Jim recently chopped some locks over at The Beer Spot in Northcote when Deep Creek had a few brews on tap on the Road to Beervana tour.  Now in its 7th year, purveyors and patrons of all things hoppy join in tastings and fun stuff as they wend their way to the Windy City.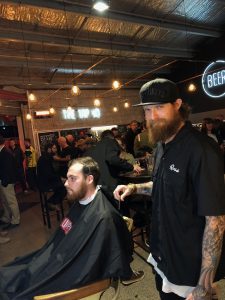 "Why didn't we come here on our FIRST day?" bemoaned a visiting English rellie when we rocked up to The Beer Spot on the last day of his trip.  Why not indeed?  40 rotating beers on tap, a different food truck each week, dog- and child-friendly and a relaxed vibe a bit like hanging out in your mate's garage, but cosier.
Keep an eye out for more guest cutting spots from us over at The Beer Spot, and in the meantime enjoy a complimentary cold Deep Creek beer next time you're in*.  We're also planning tastings of their monthly special brews at the shop – check our Facebook page for deets.
*after 4pm Thursday and Friday, obviously you'll need to be over 18 and a responsible, upstanding kind of person.