If you're heading to Maloney's for the first time, here are a few hints to make your visit even more awesome …..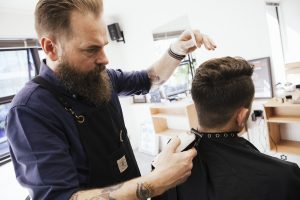 You don't need an appointment for  a haircut or beard trim – head along when it suits you.
A good barber is a busy barber so there may be a bit of a wait.  Put your name on the board then hang with a magazine or go have a coffee/bite/beer and come back – our team will tell you how long the wait is likely to be. This is an art not a science so we appreciate your patience!  Saturdays are busiest.
Not sure what you want? Feel free to bring a picture on your phone, and your barber can give you good advice too on what'll look sharp and suit you.
Cole, our trainee barber, is great at clipper cuts and may grab the odd client out of the queue for this – don't be offended, this speeds up the line for you!
You can request a certain barber by putting their initial after your name.  Just remember this might increase your wait time.  All our barbers meet the highest standards so why not be bold and try someone different?
Not sure what product to use?  Ask your barber to try something out and recommend what suits.
Fancy a hot towel shave?  These are by appointment (call or email us) but try your luck if you feel spontaneous –  if Cut Throat Sue is in the house she'll look after you.